Innovative Wellness



Innovative Wellness is the proud recipient of Consumers Choice  winner for providing award winning service as well as achieving   "Highly Recommended" designation. 
We are excited to help you. Please  Contact us to learn more about our yoga programs, therapeutic yoga packages, and who we incorporate trauma informed, BoneFit into all our classes.
Private & Group
Trauma Informed
Therapeutic Yoga 
to help you, your family and friends  stay healthy mentally, physically and emotionally well during these unprecedented times of isolation and social distancing.
****
Private Classes
It's easy to book your private class, just Contact Us
You choose the day, time, location, and package that will help you achieve your personal goals. We customize every private class to meet your needs.
New this year, we created four therapeutic packages that will save you 20-42% off our regular fees. See below for details.
****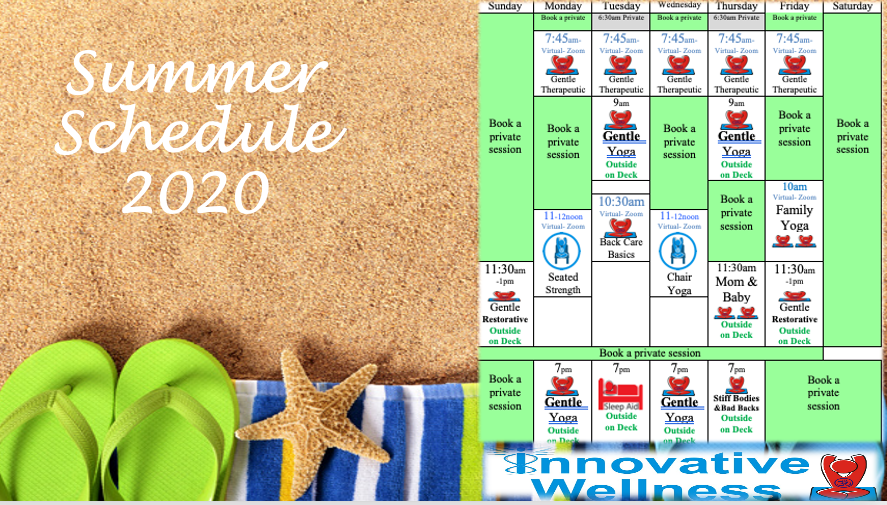 NEW Outdoor classes
….max 4 people 

on the deck and/or grass to ensure we have required social distance
9am 

Relax, Rejuvenate with Gentle Therapeutic  Yoga

weekdays (Monday-Friday)

New 
11:30am -12:30pm 

Mom & Baby Yoga

Thursdays
11:30am -1pm

Relax, Rejuvenate with Gentle Therapeutic  Yoga

Friday & Sunday
6:30pm

   Stiff Body's & Bad Backs 

weekdays (Monday-Friday)
Please bring your own yoga mat, yoga blocks and yoga strap and ball.
If you do not have your own, no problem, we can  sell you a yoga kit
****
Virtual Zoom Group Classes
…enjoy yoga from the comfort of your home
7:45am 

Relax, Rejuvenate with Gentle Therapeutic  Yoga

every weekday morning
NEW
11am

   Seated Strength Class

Mondays
10:30am

   Back Care Basics 

Tuesdays
NEW time 
11am

   Chair Yoga

Wednesdays
10am
Family Fun
Fridays
****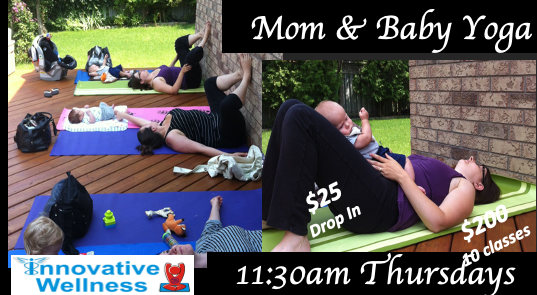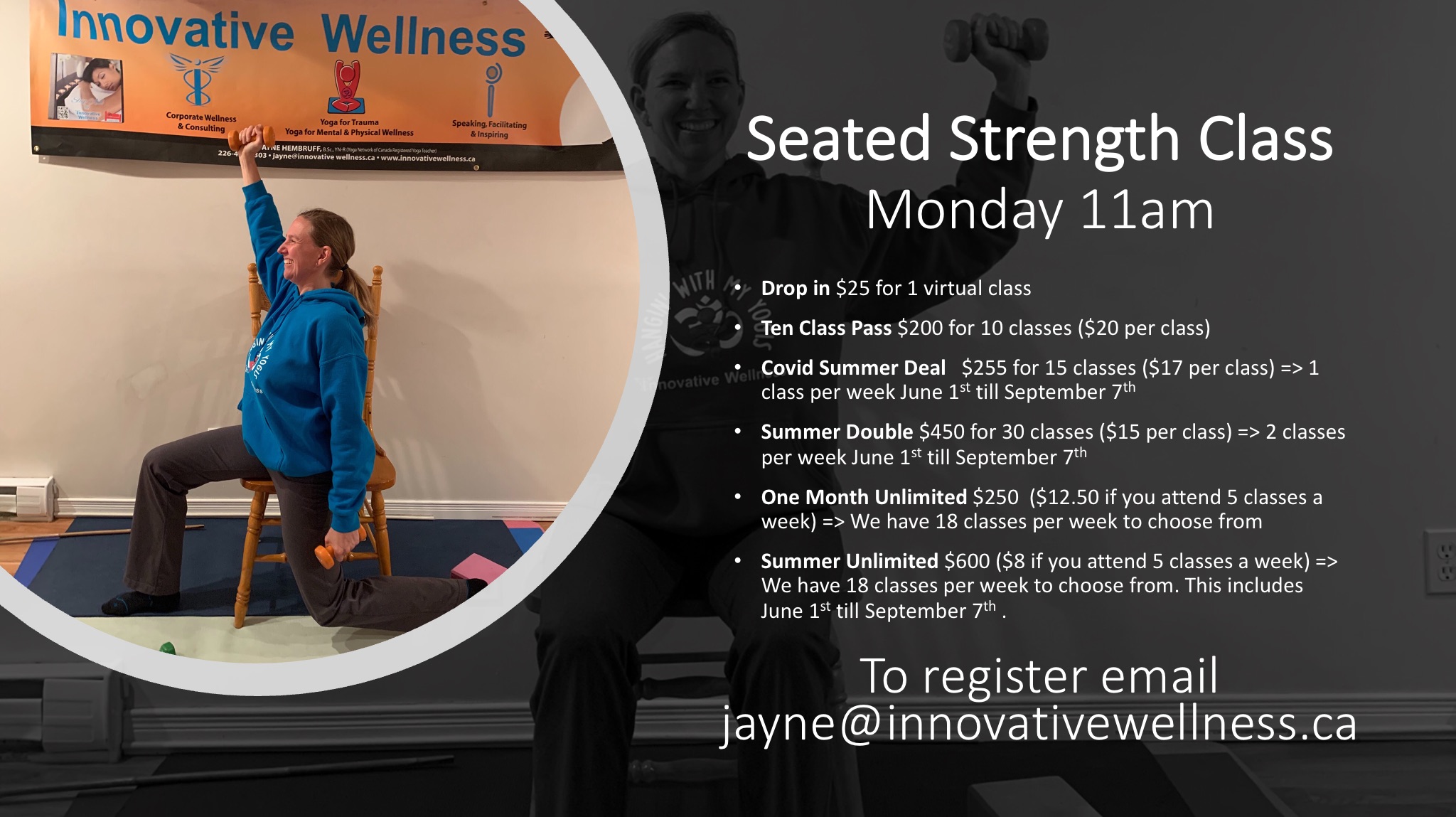 ***
Fees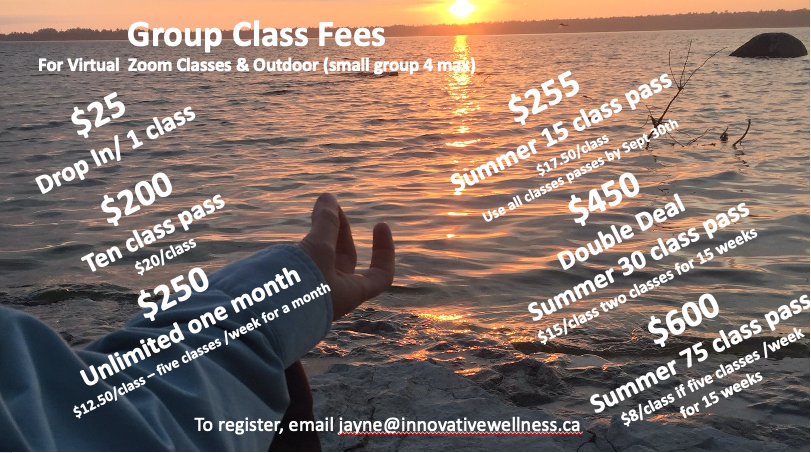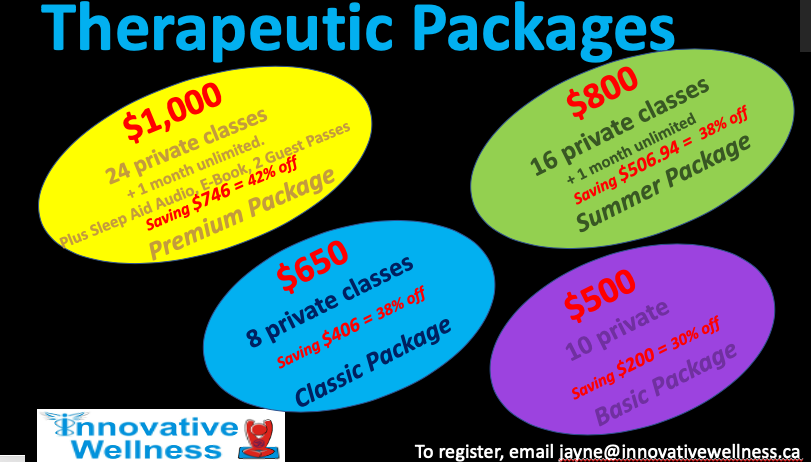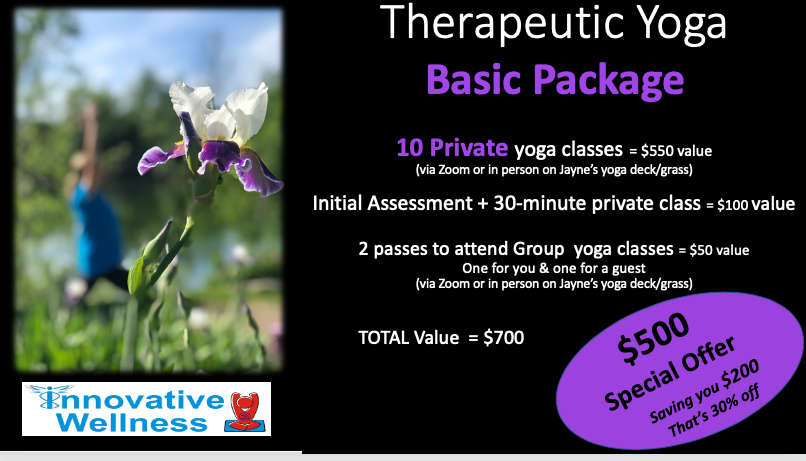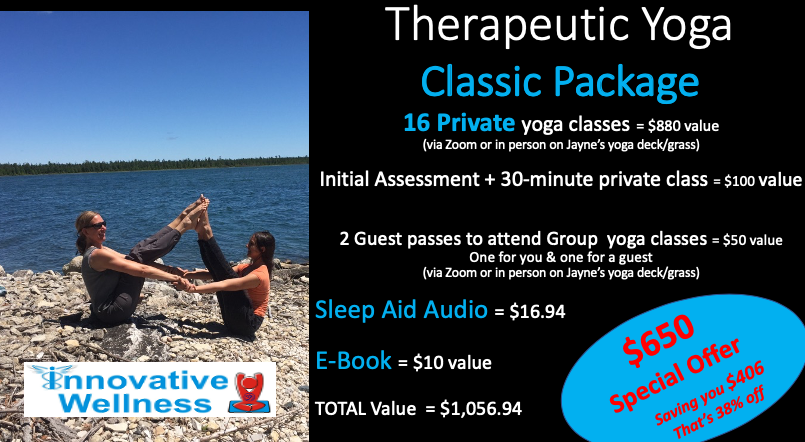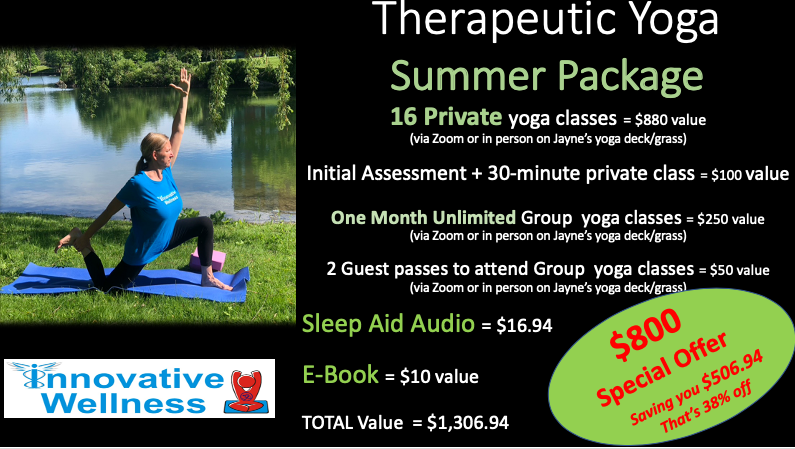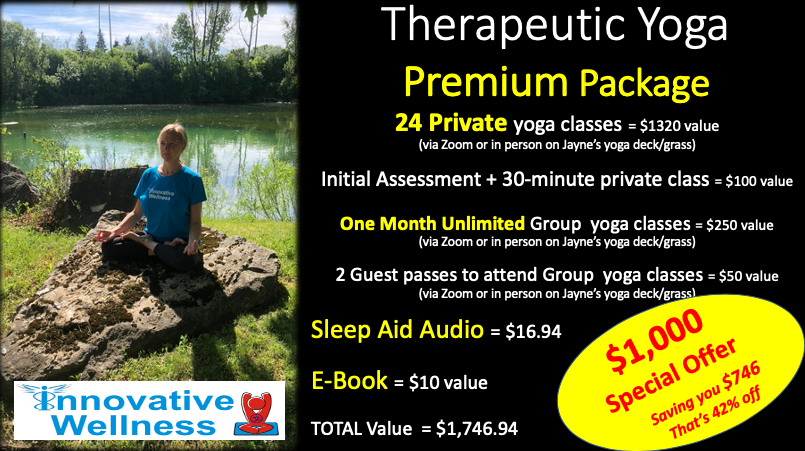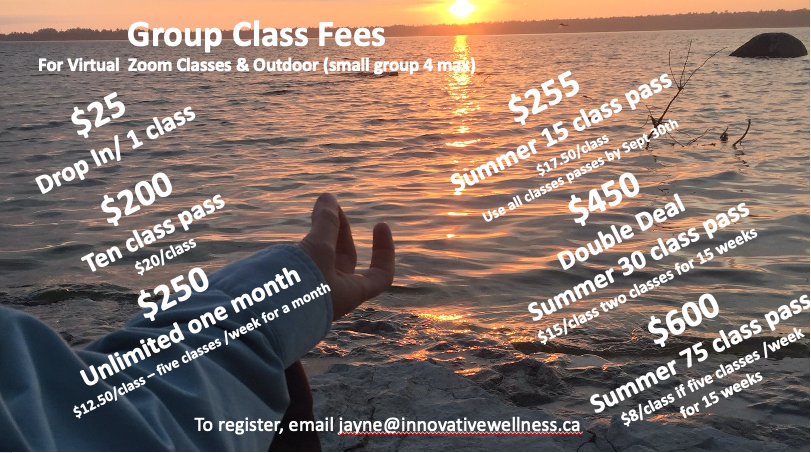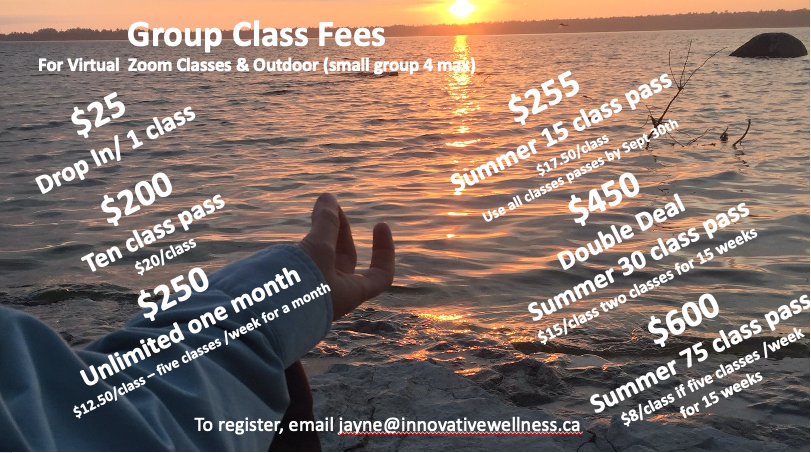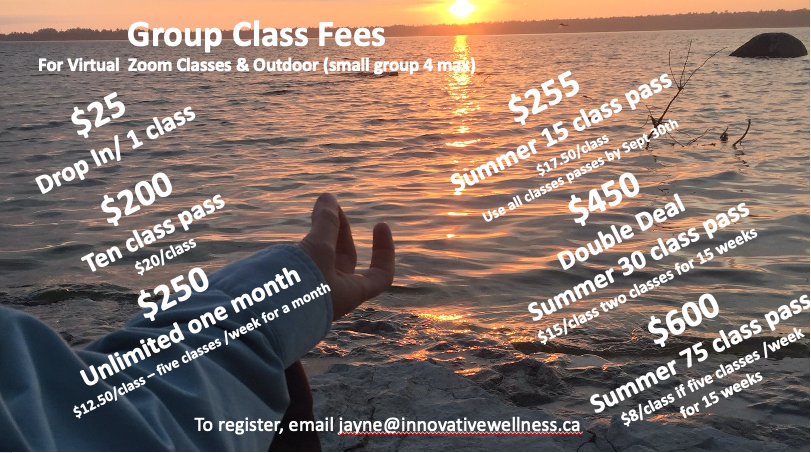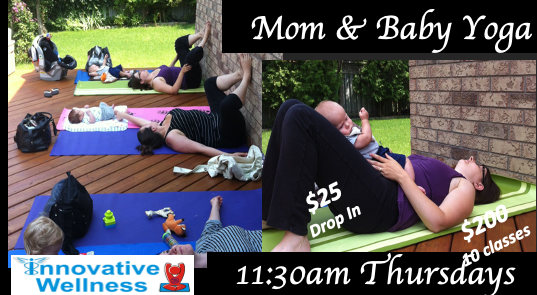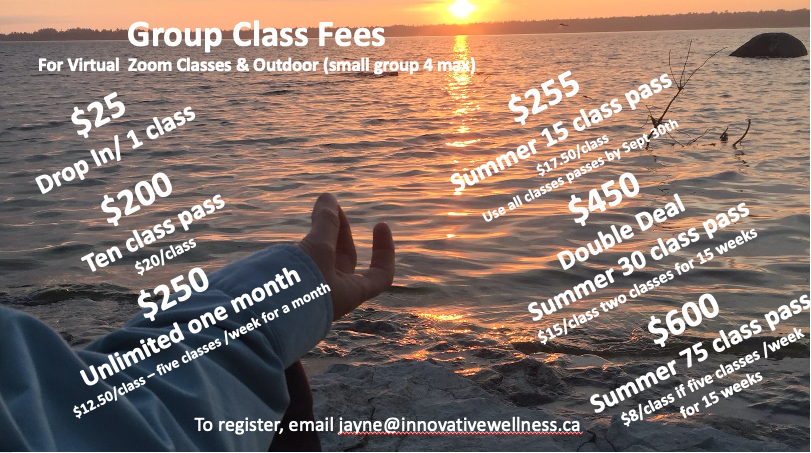 ***
 During this unprecedented time of social distancing and isolation, all we can control is our attitude and actions.
De-stress, stretch, strengthen and have some fun with us.
****
Since 2006, I have taught yoga full time and specialize working with people of all ages who are struggling with their  mental and physical wellness. 
Since March 16, we have been delivering  private classes  via phone, FaceTime, Zoom, GoogleChat, FaceBook VideoChat.
****
Here is a link to a post my daughter created a few years back about our families yoga journey across Canada. Where ever we go, we include some yoga.
Private Classes
It's easy to book your virtual class just Contact Us
Request the style of class that suits your needs the best:
 Chair Yoga
Back Care Basics
Ballet Class with Leela who is home from professional Ballet School
De-Stress
Family Yoga – have some fun with your kids
Foot Care and Foot Strengthening
Relax, Rejuvenate & Restore
Stiff Bodies
Therapeutic
Yogilates
Yoga & Cardio Blast
YogaSculpt
In addition,  i have posted some yoga videos on FaceBook in a group called Innovative Wellness Yoga Live Stream. http://Innovative Wellness Yoga Live Stream
To join these classes connect with me (Jayne Hembruff) via FaceBook or email messenger 24 hours ahead, this will allow me to add you to the group 
Please keep checking this website for Schedule Updates
****
Inspiring positive results through strategic initiatives … since 2006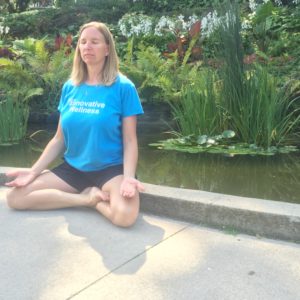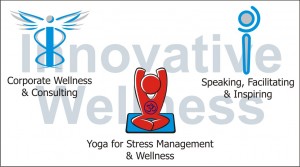 At Innovative Wellness we offer a full set of services designed to assist individuals, families and organizations in achieving their wellness goals from Trauma Informed Therapeutic Yoga, dementia friendly, Back Care Basics and dance programs, and workshops.
How can we help you?
We incorporate our years of experience, training and education from various fields such as Biology, Psychology, and Human Resources to create programs that ensure the greatest level of benefits for you and your organization. Whether in the workplace, home or even in school, our services are guaranteed to improve day to day living for everyone
Namaste,
Jayne
New Probgrams
Programs paused due to COVID-19 
The Wayside Operating Committee met this afternoon (March 13, 2020)  and reached the decision to suspend the Monday 11am Dementia Friendly Chair Yoga and Wednesday 10:30am Chair Yoga Programs until further notice.  While the incidence of COVID19 is very low in our community the decision was to be proactive rather than reactive.  The concern is participants of these programs may be in the high-risk segments of the population (age or pre-existing medical conditions). I was told, this is not a decision that we made lightly but one that we felt was in the best interests of both the Wayside and Emmanuel communities.
City Facility Closures and Program Cancellations
To further protect the wellbeing of residents and slow the potential spread of COVID-19 in our community, the Region of Waterloo, City of Cambridge, City of Kitchener, City of Waterloo and area Townships have also made the difficult decision to close all municipally-operated recreational and cultural facilities to the public and cancel all city-run programs and events until May as of March 16, 2020.
COVID-19 Reliable Updates 
The Region of Waterloo Public Health has a COVID-19 website https://www.regionofwaterloo.ca/en/health-and-wellness/2019-novel-coronavirus.aspx#
    that is regularly updated with helpful resources and new developments.
The Region of Waterloo Public Health is asking residents to connect with them directly if they have any questions and up to date information using their email publichealth@regionofwaterloo.ca<mailto:publichealth@regionofwaterloo.ca> and/or calling 519-575-4400.
Plus you can subscribe to get updates in our region https://www.regionofwaterloo.ca/en/health-and-wellness/confirmed-positive-cases-in-waterloo-region.aspx
Ontario https://www.ontario.ca/page/2019-novel-coronavirus
Public Health Canada https://www.canada.ca/en/public-health/services/diseases/coronavirus-disease-covid-19.html
Please keep checking this website for updates.
Any questions  Contact Us
Dementia Friendly Yoga Program
We now offer dance programs too. We are happy to have Kia on our team teaching a range of dance programs for children aged 3-9 years old as well as an adult ballet beginner class. Dance programs offered are: Moving to Music, Dance it Out, Ballet basics, jazz, hip hop. Plus Jayne leads the Beginner Ballroom basics classes.
Check out our Yoga Schedule https://innovativewellness.ca/calendar-of-events/
To book a class https://innovativewellness.ca/contact/
If our schedule does not fit, book a private class
We make house calls; bring yoga to you


Cut your risk of heart disease in half with yoga and aerobic exercise
https://innovativewellness.ca/yoga-is-effective-at-warding-off-heart-disease-according-to-new-research-from-hg-sms-hospital/
Lunch and Learns & Workshops


Work Life Balance 
Outline:

Finding a work life balance that is right for you.
Outcomes participants may experience from our Mindfulness workshop are:
– Develop a  plan to achieve the right work life balance for you
-Learn tools to decreased work-related stress
-Restructure your work and life by identifying your  activity and people wasters
-Unplug
-Self Care -body and mind
– Identify how you  can empower others to allow them to grow and you to slow?

Mindfulness
Outline:

Experiment with various techniques to experience being in the moment. This experiential workshop will allow participants to experience how mindfulness positively affects their  body and brain.
Research shows mindfulness has a number of positive results such as:
–  "less stress, reduced psychological distress, and improved social functioning and quality of life" (Bartlett, Lovell, Otahal, Sanderson, & Tasmania, 2016), 
– "improves job performance "  (Dane & Brummel, 2014), 
– "lower levels of work-related stress, greater job satisfaction, and, ultimately, enhanced job performance as rated by their employers" (Shonin, Van Gordon, Dunn, Singh, & Griffiths, 2014), 
– "enhances resiliency and vigor " (Aikens, Astin, Pelletier, Levanovich, Baase, Park, & Bodnar, 2014) 
Outcomes participants may experience from our Mindfulness workshop are:
– Develop a self care tool
-Decreased Stress
-Reduced pain; both physical and mental
-Enhanced resiliency and vigor
-Improved our coping ability
-Increased the rate of recovery
-Enhanced mood and decreases depressive symptoms
-Better problem solving
-Decreased negative self talk
-More focused
–-Improved job performance
Workshops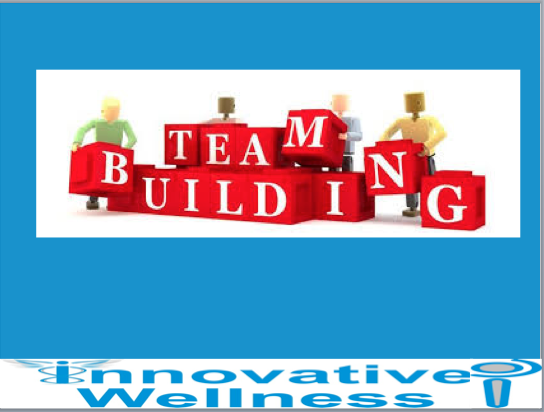 Treat your team to a fun unique hands on Team Building workshop with our three experienced facilitators.
We utilize both the classroom for the foundational review of the benefits of teamwork and we then transition to a hands on task. This task is lead by a Guinness World Record holder.
The lessons found in this workshop highlight the need for good communication and cooperation. The entire workshop is presented in an atmosphere of fun and humour.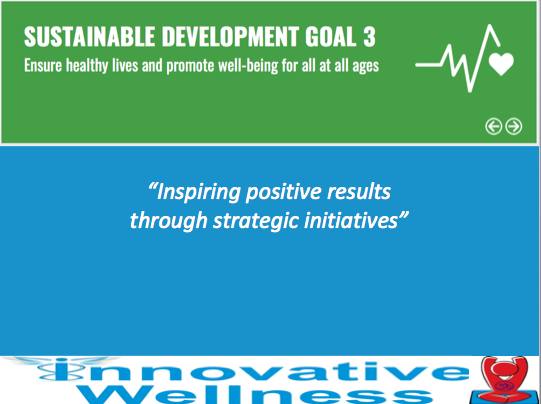 Learn how your group or organization can help ensure healthy lives and promote well-being for all.
Innovative Wellness  was a presenter at  the United Nations SDG event Sat., Nov 18, 2017.
Did you know….
yoga can change our biology?
Yoga can relax us and 'reverse' the molecular reactions in our DNA which cause ill-health and depression
(according to the following recent studies 2017  study by Buric,  Farias,  Jong,  Mee, & 2013 Janice Kiecolt-Glase).
Yoga leads to a reversal of the pro-inflammatory gene expression pattern and a reduction in the risk of inflammation-related diseases and conditions.
Read more on our post https://innovativewellness.ca/inflammation-and-aging-and-how-yoga-fits-in/
"Yoga is a tool to help the body; not to force it into poses. Its about learning to create self awareness, practice self regulation and develop self care tools"
We offer Body & Mind Based Programs for all ages and abilities…
including programs for Families
Visit  https://innovativewellness.ca/calendar-of-events/  for more details or email jayne@innovativewellness.ca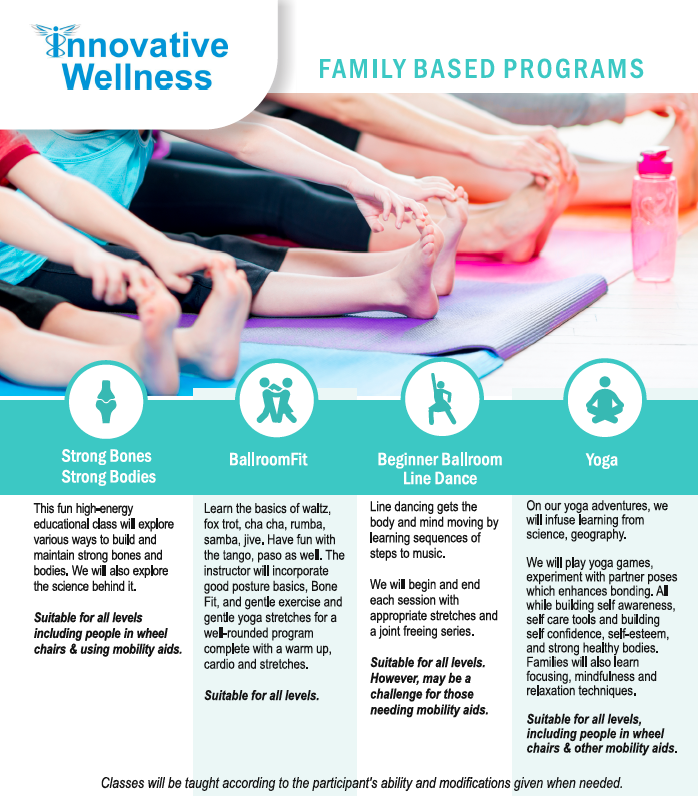 Programs for all ages and abilities
Workshops for all ages and abilities