Yoga with Hockey Kids @ Skills Plus summer Camp
Yoga is excellent for hockey players of all ages. It helps teach them self awareness, self care tools and how you can mix having fun with being mindful, stretching and strength.
3 & 4 Scoops: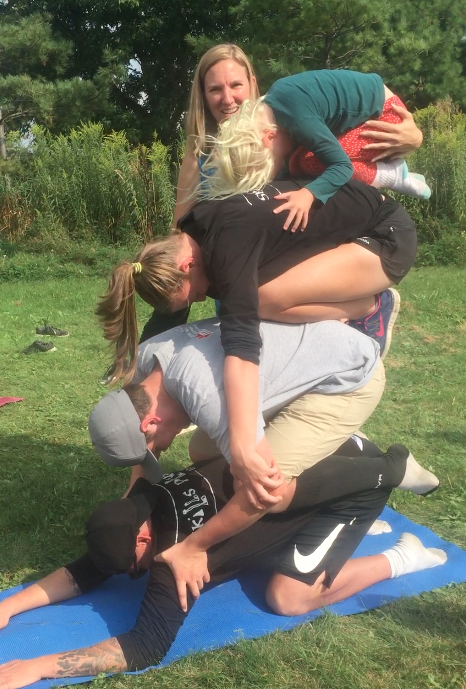 I love this picture demonstrating 4 scoops with 3 Skills Plus coaches and one young camper. It demonstrates how yoga is fun for all ages.
For the past number of years I have been a guest at Eric Calder's Skills Plus hockey camps sharing my passion of yoga with his hockey camp kids.
Below is one coach with two campers and four campers.
This pose is more commonly called Resting Child's pose or Balasana in sanskrit. Is is a beautiful deep forward bend.
There are three main benefits of this pose. 1. Gently stretches the hips, thighs, and ankles; 2. Calms the brain and helps relieve stress and fatigue; and 3. Relieves back and neck pain when done with head and torso supported.
Reverse Table with a buddy sitting on the table:
This pose is a great core strengthener.
Down Dog Train: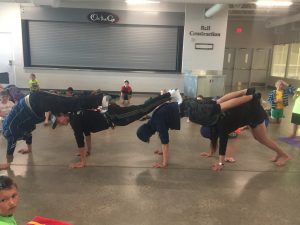 Downward facing Dog orAdho Mukha Svanasana is one of the most recognized yoga poses.
At Skills Plus this summer, we had some fun with this pose. Experimenting to see how many people we could have dping  downward facing dog on each other.
Our photo has four Skills Plus coaches demonstrating how it is done.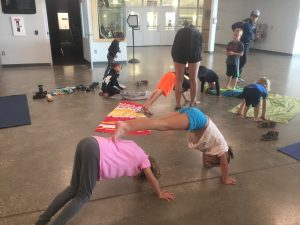 Yoga journal states this pose has the following benefits: 1.Calms the brain and helps relieve stress and mild depression; 2. Energizes the body, 3. Stretches the shoulders, hamstrings, calves, arches, and hands; 4. Strengthens the arms and legs; 5. Helps prevent osteoporosis;  6. Improves digestion; 7. Relieves headache, insomnia, back pain, and fatigue; 8. Therapeutic for high blood pressure, asthma, flat feet, sciatica, sinusitis.
Back Pack Pose:
Nothing says back to school quite like Back Pack Pose.