The Yoga Prescription: The Benefits for Mental Health
I witnessed first-hand how a community based mental wellness yoga program has helped so many people. In fact from 2008-2012, I even collected data before and after each class. The results were well beyond what I expected  85% of the participants reported a decrease in symptoms related to their serious mood disorder. 85% shared they had less pain after yoga. 85% said they felt less sleepy after yoga. 90% reported felt good after yoga. 98% reported they were looking forward to returning to yoga the following week.
This  community based yoga program focused on improving mental wellness through yoga. It was one of five modules for Dr. Lakshmi P Voruganti (psychiatrist, MacMaster University) Diabetes Prevention Program in Schizophrenia Research.
Following this project, I began teaching an in patient yoga program at Grand River Hospital Specialized Mental Health unit. Over the past number of years, the nurses share patients who participate in the yoga program share they feel better, more calm, and tend to get a better nights sleep on yoga nights.
Patients share "My mind is less busy after yoga", "I feel more relaxed", "My balance is improving", "It feels so good to work my body"
Community yoga participants shared: "yoga with Jayne has helped control my symptoms"…diagnosed with  schizophrenia. Sister of this individual states "you have transformed my sibling's life for the better"
"My psychiatrist recommended Restorative yoga with Jayne and it has reduced my chronic tension by 50%" The primary caregiver of this individual states "yoga has made a real difference in our lives".
Testimonials from Participants:
50 year old truck driver "Yoga has really helped decrease my symptoms related to depression"
24 year old client living with Schizophrenia & Depression – "I have schizophrenia with a very high level of anxiety a great deal of the time and a depression component as well. I have had the opportunity to be involved in yoga classes for some time, even when I was in the more acute stages of my psychosis.
Yoga classes have helped me in many ways, including the following:
· Learning to use my breathing as a calming strategy. (I use this almost daily and probably many times in a day.)
· Focusing myself to stay out of my thoughts.
· Increasing my awareness of what is happening in my body and using poses to release tension.
· Restorative yoga has helped to give my muscles a message to relax, which has decreased headaches, neck and shoulder tension and even dizziness that is created at times by the level of tension in my muscles.
· After a yoga class the decrease in tension in my body decreases my anxiety level and this can last into the next day.
· I am able to sleep better and am also more alert during the day.
· Yoga provides increased motivation to be healthy.
There are many, many people in my situation who would benefit from yoga classes but since they live on fixed incomes they will never experience these benefits that would assist them in coping with the symptoms of serious mental health challenges.
Caregiver Testimonial
"Mental health challenges affect not only the person with the illness but their family as well. My daughter's journey with schizophrenia and anxiety has meant high levels of stress which we all know creates physical symptoms as well. I feel that yoga has been part of the self care that I have needed to pay attention to so that I have the resources to be helpful to my daughter in her recovery. Parents/caregivers can get lost in the daily struggles of their ill family member and forget about their own needs.
My daughter and I have taken yoga classes together which has helped her feel comfortable going when she is anxious and fearful.
Yoga itself has helped me to relax, eased muscle tension and increased my feelings of physical well being. After a class I feel re-energized to deal with daily demands and struggles."
Read below Sweat Equity article entitled "The Yoga Prescription: The Benefits for Mental Health"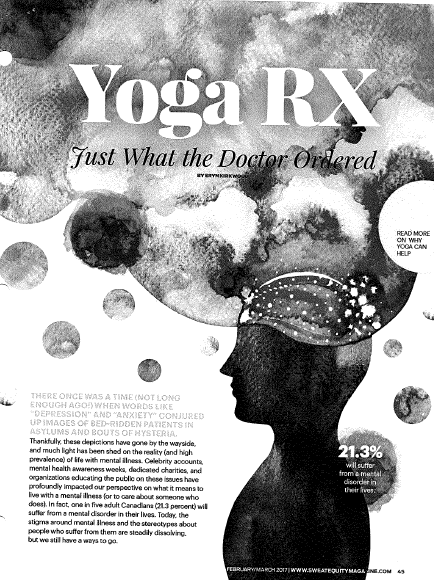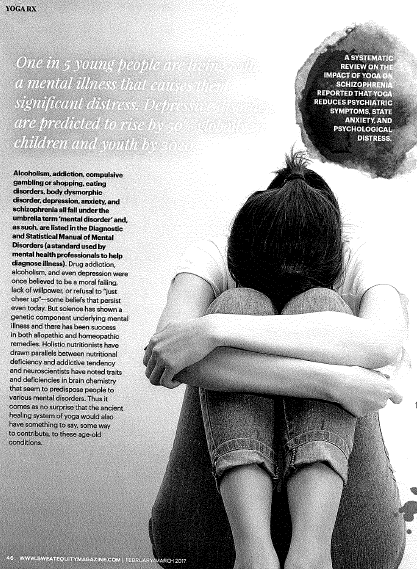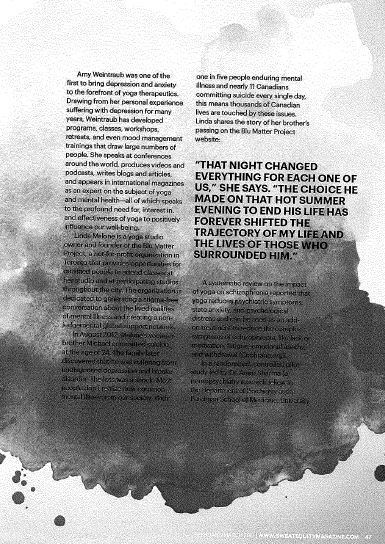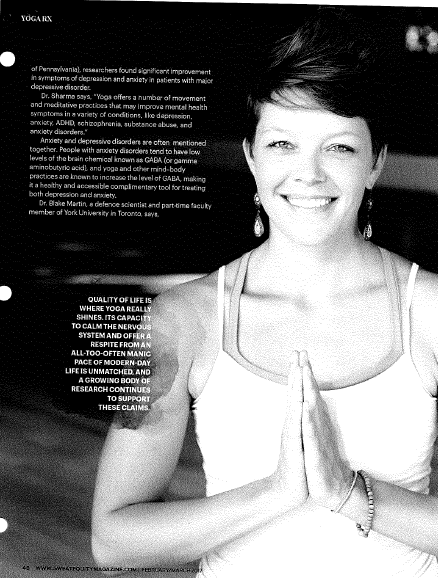 Sources mentioned in the article:
yogafordepression.com/about-amy-weintraub/
Amy Weintraub, MFA, E-RYT 500, C-IAYT, YACEP, founder of the LifeForce Yoga Healing Institute, the author of Yoga for Depression
http://blumatterproject.com
Also check out:
Stories of Living on Waterloo Suicide Prevention Council website
2.  2016 film The Responsibility of Hope: A film about people's experiences with our system
As part of the Designing Better process we have listened to stories about struggles; about people with complex mental health issues, addictions and a system trying to lend a supportive hand. We have learned about the power of resilience, the responsibility of hope and the courage to try.
3. Alicia Raimundo TED Talk..Mental Health Super Hero  https://www.youtube.com/watch?v=blSkkwcy4uo  
4. Look at this unique new online counselling  https://tranqool.com/how-it-works/
5. Saturday Mar 2, 2013 I spoke at a mental health conference and made it into the Brantord Expositor newspaper
http://www.brantfordexpositor.ca/2013/03/03/event-brings-families-with-mental-illness-together
The Saturday conference also included a presentation by Jayne Hembruff of Innovative Wellness, who is a registered yoga teacher. She specializes in helping people improve their physical and mental wellness and decrease stress levels.
Yoga can help ease some of the symptoms of mental illness and in many cases it's a matter of helping people slow down and take a deep breath to take away some of the anxiety or pressure they might be feeling.
She is passionate about the mental health benefits of yoga and has been trying to get it into the schools as a way of helping young people.
"It (yoga) is another tool, something that can help those who have a mental illness and those who have a loved one with a mental illness," she said.
Also did you see my webinar on the Canadian Self Regulation Initiative website? Yoga as an effective tool to enhance a child's ability to self-regulate You may view this post at
http://www.self-regulation.ca/resources/webinars/
6. New 2017 film….
ryanantooa@jw_est.1989 and I produced a short film on mental health – profiling the struggles, insights, and lessons on dealing with mental illness from 5 incredible individuals from all walks of life. "The Untold Truth" comes out late February. Whether it's for someone going through mental illness or acting as a bystander to it – we're all in this together, and hope this film illustrates our connectedness in this fight. ?? Shot by the great, talented, creative mind of @dhanung + @vutsupalex ?
Here's a few snippets from the film. Tag someone that needs to see this to get through the day.