Adopt A Grandparent Yoga Program…. we need seniors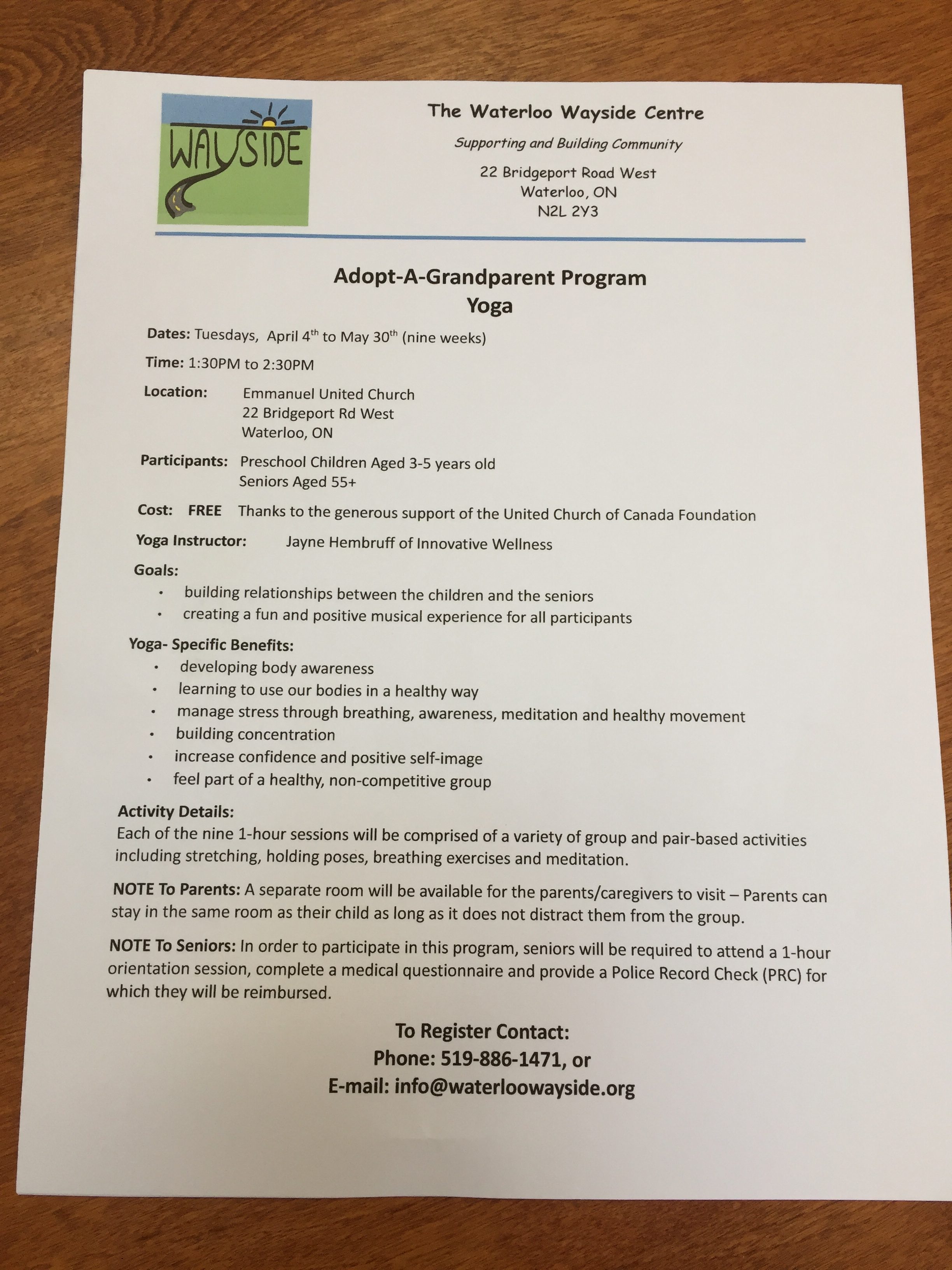 Adopt-A-Grandparent Program Yoga
Dates: Tuesdays, April 4th to May 30th (nine weeks)
Time: 1:30PM to 2:30PM
Location: Emmanuel United Church 22 Bridgeport Rd West Waterloo, ON Participants:
Preschool Children Aged 3-5 years old
Seniors Aged 55+
Cost: FREE Thanks to the generous support of the United Church of Canada Foundation Yoga
Instructor: Jayne Hembruff of Innovative Wellness
Goals: • building relationships between the children and the seniors • creating a fun and positive musical experience for all participants
Yoga- Specific Benefits: • developing body awareness • learning to use our bodies in a healthy way • manage stress through breathing, awareness, meditation and healthy movement • building concentration • increase confidence and positive self-image • feel part of a healthy, non-competitive group
Activity Details: Each of the nine 1-hour sessions will be comprised of a variety of group and pair-based activities including stretching, holding poses, breathing exercises and meditation.
NOTE To Parents: A separate room will be available for the parents/caregivers to visit – Parents can stay in the same room as their child as long as it does not distract them from the group.
NOTE To Seniors: In order to participate in this program, seniors will be required to attend a 1-hour orientation session, complete a medical questionnaire and provide a Police Record Check (PRC) for which they will be reimbursed.
To Register Contact: Phone: 519-886-1471, or E-mail: info@waterloowayside.org