Unlimited Summer Classes – June 11 – Aug 31, 2018
This summer enjoy unlimited yoga, mindfulness, meditation, as well as BoneFit weights and Belly Buster classes.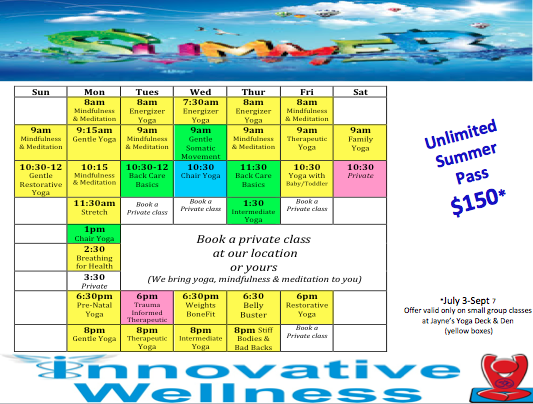 Why choose Innovative Wellness?
– Our classes are small
– Personalized custom designed classes specifically for your unique needs
– Our instructor has taught over 6,000 classes, continuously training; to date has over 600 hours of training including being trauma informed, therapeutic, back care basic, BoneFit
– Our home studio is welcoming
– Outside classes when the weather allows and if you, the client agrees
– Our goal is to inspire positive results to improve your mental and physical wellness
Pre-Summer classes at Jayne's Yoga Den / Deck:
Monday, June 11 @ 9:15am & 8pm
Wednesday, June 13 @  8pm
Thursday, June 14@ 8am & 8pm
Friday, June 15 10:30 Yoga with Baby Toddler . & 6pm Restorative Yoga
Sunday, June 17 @ 10:30am-12noon
Monday, June 18 @ 9:15am & 8pm
Tuesday, June 19 @ 8pm
Wednesday, June 20 @  7:30am
Last week of June:
Sunday, June 24 @ 4:30pm (time changed)
Monday, June 25 @ 9:15am & 8pm
Tuesday, June 26 @ 8pm
Unlimited Summer Classes Offer is from now-Aug 31 This offer is only valid on small group classes hosted at Jayne's home Yoga Studio and Deck (yellow classes on the schedule). June schedule is a different from the Summer (July 3 and August 31) schedule shown. Schedule may be subject to change.