Stomp Out Stigma and Defeat Depression
(Drawing from former patient on CAIP or YAP)
Wednesday, July 8 was Stomp Out Stigma BBQ, with many community partners such as Waterloo Region Suicide Prevention, Waterloo Regional Homes for Mental Health APSGO, CCAC, CSCMOW. There was great music, and a Dr Dance. This event was hosted by Grand River Hospital. A special thank you to my clients who volunteered.
Innovative Wellness facilitates the?in patient yoga program at Specialized Mental Health and offers trauma sensitive yoga and yoga for anxiety and mood disorders at your home, or our?yoga studio. ?We also offer YOGA-TASTIC program for schools to help children learn skills to help decrease their symptoms?related to anxiety, depression and other mood disorders. To learn more watch webinar with Dr. Shanker "Yoga is an Effective Tool for Self Regulation"?https://vimeo.com/60056675
In partnership with Wayside, we offer a free Community Chair Yoga Program at Emmanuel United Church Wednesdays 10:30am, followed by tea, coffee and light snack at 11:30.
For more information, please Contact us at jayne@innovativewellness.ca for more information.
Help reduce the stigma of mental illness.?Mood Disorders Society of Canada (MDSC) is a national, not for profit, consumer driven, voluntary health charity committed to ensuring that the voices of consumers, family members and caregivers are heard on issues relating to mental health and mental illness; and in particular with regard to depression, bipolar illness and other associated mood disorders.visit www.mooddisordercanada.ca
Defeat Depression
Depression is a common illness affecting many individuals and families, and strikes all socioeconomic, educational, and cultural backgrounds.
From depression to singing Toronto 2015 Pan Am and Parapan Am Games.
Listen to Canadian singer Serena Ryder talk about her depression
http://www.cbc.ca/player/Shows/Shows/q/ID/2333222644/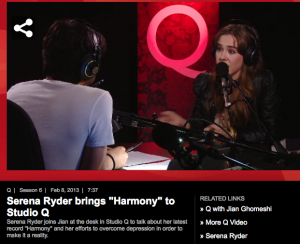 The Defeat Depression Campaign provides hope and reduces stigma for people who are affected by depression and other mood disorders. To learn more visit?www.defeatdepression.ca