How to De-Stres this Holiday
How to De-Stres this Holiday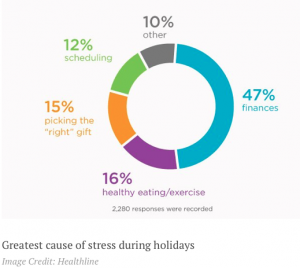 We all know the holidays heighten our stress. For some is could be due to finances,  health concerns, picking the 'right gift', scheduling, family conflicts, no family ties or a whole bunch of other reasons.
Whatever the reason for your stress, Innovative Wellness is here to help you.
"The holidays are filled with both joy and stress," says Ellen Braaten, PhD, an HMS associate professor of psychology at Massachusetts General Hospital and associate director of its Clay Center for Young Healthy Minds.
Join one or all five Sundays from  10am-12noon
Sunday, Nov 12, 19, Dec 3, 10, 17.
10am- Discussion on Stress
10:30 De-Stress Tea
10:45am Yoga
11:45am Mindful Meditation
E-mail jayne@innovativewellness.ca to book your seat.
Space is limited.
Fee: $20
or  only $30 for two if  you bring a friend or family member
Location: Jayne's Yoga Den (262 Casswell Court, Waterloo)
Note: NO classes Nov 25
Holiday YOGA
Need some yoga during the holidays?
No problem. we have you covered. Join any of our yoga and mindful meditation sessions.
Monday, December 25
2-3pm Yoga followed by Mindful Meditation
Tuesday, December 26
9am-10:30 am De-stress yoga followed by Mindful Meditation
8pm Belly Buster
Wednesday, December 27
9am-10am De-stress yoga and Mindful Meditation
8pm Yoga Flow
Thursday, December 28
9am-10am De-stress yoga and Mindful Meditation
7pm Belly Buster
8pm Yoga for Bad backs and Stiff bodies
Friday, December 29
9am-10am De-stress yoga and Mindful Meditation
5:15pm Restorative Yoga
Sunday,  December 31
10:30am-12noon  Saying Good Bye to 2017 Yoga practice
Monday,  January 1st 
10am-11:30 am Welcoming in 2018 yoga practice
Tuesday,  January 2nd
9am-10am  yoga and Mindful Meditation
8pm Gentle Yoga
Wednesday, January 3rd
9am-10am De-stress yoga and Mindful Meditation
8pm Yoga Flow
Thursday, January 4th
9am-10am De-stress yoga and Mindful Meditation
8pm Yoga for Stiff Bodies & Bad Backs
Friday, January 5th
9am-10am De-stress yoga and Mindful Meditation
5:15pm Restorative Yoga