Hiking is a great activity….check out some of these great hikes right here in Southern Ontario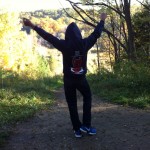 I love to hike, especially with my family and friends. In fact, on Thanksgiving Monday my children and I enjoyed the Rouge Valley Hiking Trail in Pickering. The weather was incredible and so were the leaves. When we arrived shortly after 8am,?there was a group of hikers?cheering that I was able to get teens out of bed before noon and on a hiking trail. This trail takes you along side the creek and to the Toronto?Zoo. ?In the spring?we enjoyed the Seaton Trail in Pickering.
Here in Waterloo, we enjoy our Forewell Creek Trail, Walter Bean and TransCanada Trail.
On Manitoulin Island, our favourite trail is Cup and Saucer and Bridal Veil Falls. No trip to the island is complete without hiking these trails.
Today, a friend sent me this link….Ontario hikes and waterfalls that cant be missed this fall
What are some of your favourite hiking trails?
Please share as I am always seeking trails to hike.