Final Day….Donate your old clothing to Cancer..Kids Karma Project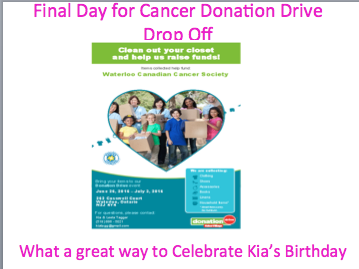 ?Today, July 3 is the last day to ?drop off your??old clothing and household items ?to help raise money for Cancer.
The girls goals is to deliver 1,000 more pounds of clothing this Monday July 4th morning.
We challenge you ?to clean up your home and donate your items to Cancer. It's simple, just bring your items to 262 Casswell Court anytime from now until Monday July 4th 10am.?Then ?we will deliver them to Value Village.
Last week, Wednesday, June 29th Kia and Leela dropped off 547 pounds of used clothing which translates to $109 for Canadian Cancer Society. Thank you to all of you who donated.
The final collection date is today July 3rd, which is Kia's birthday. Please give her the gift of your used clothing and other items and help her reach her goal of $1,600 pound f clothing to help raise money for cancer research.
Kia & Leela's Cancer Fundraiser website: https://spookytours.wordpress.com